Sink Faucet Manufacturer
Voli is a global manufacturer of a wide range of sink faucets for kitchens, bathrooms, luxurious hotels, spas, etc. We also offer custom sink faucets at a budget-friendly price to meet all your business needs.
Over 10 years of manufacturing experience
High-quality sink faucets with warranty
Available in a lot of finishes
Made from durable and highest quality raw materials
Voli Sink Faucet
At Voli, you can surely find the sink faucets that suit your business! We are manufacturing many different types of sink faucets to address your business needs, faucets such as pull-down faucets, pull-out faucets, touchless faucets, waterfall faucets, double-handle faucets, and many more.
We can also custom manufacture sink faucets as per your request. The sink faucets from Voli can be made from premium, durable, and environmentally friendly materials such as brass, 59° copper, zinc, stainless steel, plastic, steel, or custom materials. They can also be added with high-grade finishes such as gold brushed, white matte, rose golden, chrome, nickel brushed, gun metal, and many more to brighten their surface and prevent corrosion.
All of the sink faucets from Voli are tarnish-resistant, durable, pressure-resistant, temperature-resistant, corrosion-resistant, lead-free, non-toxic, and safe for drinking. They are widely used in many luxurious hotels, bathrooms, medical clinics, spas, restaurants, and homes.
If you are looking for quality sink faucets, you can browse from our products below or you may contact us for custom sink faucets.
Voli Sink Faucet Series
The high body sink faucet has a luxurious and stylish look. It is commonly installed in many luxurious hotels and spas. Moreover, the faucet is made from carefully selected, superior-quality, and non-toxic copper material. It is also easy and quick to install.
Voli pull-out sink faucet is made from high-quality, safe, and corrosion-resistant 59 brass material with a nickel-plated chrome finish. Due to its finish, it has a long-lasting shine and improved corrosion resistance. It has excellent stability and lubricating capacity.
The water fall sink faucet is designed with a wider and flat spout that allows the water to flow beautifully and smoothly. It is made from lead-free, high-quality, non-toxic, and durable materials. The faucet is also drip-fee, corrosion-resistant, and fashionable.
The touch-free automatic sensor tap sink faucet has a double sensor module that can detect within 6-10 inches. When your hands are moved away, the faucet also turns off. It is very water-efficient and hygienic since it is touchless. You can install them in minutes.
The automatic touchless kitchen sink faucet will turn off and turn on automatically if something is within the sensor area. It is used to prevent cross-infection after washing your hands. Also, it can be chrome polished to enhance its corrosion and tarnish resistance.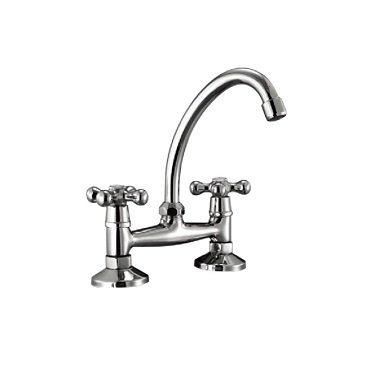 The 2 handles and spout of the 4 inch centerset sink faucet is combined together. The handles of this faucet are also designed to be 4 inches apart. It has a tap that works quietly and a ceramic filter that can resist temperatures up to 90°. The faucet is also rust-proof and wear-resistant.
Voli Sink Faucet for Kitchen
(4)
Voli Sink Faucet for Lavatory
(4)
Voli Sink Faucet Features
Water-Efficient
The sink faucets such as pull-down, touch-free, pull-out, double handle, and single handles help you conserve water. These faucets can help you save water by about 30 percent up to 50 percent.
Durable
All Voli sink faucets are durable and made to last. They are made from corrosion-resistant and high-quality materials such as steel and brass so they will last for a long time and have more durability.
Corrosion-Resistant
The sink faucets are usually made from corrosion-resistant materials since they will be exposed to water. They are also treated with various surface finishes to increase their resistance to corrosion.
Fully Customizable
Voli has the ability to produce sink faucets based on your requirements. The materials, finishes, sizes, styles, logos, packaging, functions, and other specifications can be customized.
Voli Sink Faucet Materials
Voli uses high-quality and corrosion-resistant materials for the sink faucets. Some of the materials that we use include:
Brass/Copper – The brass and copper are an ideal choice for sink faucets since they do not calcify when exposed to hard water or corrode when exposed to soft water. They also have high hardness, high strength, pressure resistance, and temperature resistance.
Stainless Steel – Usually, the most used type of stainless steel for faucets are 18/10 and 18/8. Stainless steel is great for sink faucets due to its durability, natural corrosion resistance, and is also lead-free.
Zinc – The sink faucets that are made from zinc are less expensive the brass faucets. However, they also have the same corrosion resistance as brass.
There are also other materials we used for manufacturing the faucets and we are able of customizing them according to your requirements.
Various Surface Finishes for Sink Faucets
Voli offers a wide range of finishes from matte to metallic in order to suit your needs. Some of the available finishes are:
Chrome Finish – The chrome coatings are consisting of a thin layer of chromium. These types of coating also last long. The faucets that are chrome-finished are scratch-resistant, durable, and corrosion-resistant.
Stainless Finish – Just like the chrome finish, the stainless finish is also non-corrosive and durable. It can be polished to a high shine. And it does not wear off.
Gold Finish – Applying the gold finish will add a metallic and luxurious look to the faucets. It is also non-corroding and durable.
Other types of finishes are also available such as nickel finish, matte black finish, rose golden finish, matte white finish, and many more.
Why Choose Voli Sink Faucet?
At Voli, you will surely find a wide range of sink faucets that are stylish, durable, functional, modern, and high-quality. We are manufacturing different types of faucets for various types of sinks such as kitchen sinks, farmhouse sinks, undermount sinks, pedestal sinks, vessel sinks, etc.
The sink faucets also come with a warranty. Some of them have 10 years warranty depending on their type. Even if the warranty is limited, our excellent services and support are unlimited.
Voli is capable of solving technical problems such as flow noise, functions, and flow rate of the sink faucets. Aside from that, we offer free samples so you can test the faucet's quality and performance. And we can customize any of our sink faucets to suit your needs.
As a reliable manufacturer, we focus on offering high-quality sink faucets with timely delivery, reasonable prices, and after-sales support.
Choose Voli to Custom Your Sink Faucet
Voli has been producing all types of sink faucets since 2009. We have a good reputation as a result of providing excellent customization services, after-sales support, and superior quality, dependable, and reasonably priced sink faucets.
For over 10 years, we have gained the expertise to customize the sink faucets based on customers' requirements. The faucets are fully customizable. Your custom logo, designs, material, finishes, functions, packaging, color, and other custom specifications are warmly accepted.
Voli sink faucets are also certified to EN 1112, ACS, KTW, WRAS, UPC, etc. The materials used for fabricating them comply with American and European international standards. Therefore, we hope that you can have total confidence in the credibility, quality, and safety of our sink faucets.
Commonly, we have a production time of about 25 up to 30 days. However, if your orders are urgent, you can notify us so that we can place them in the special production to ensure that they are completed on time. We can also deliver your sink faucets to your location, no matter where it is.
For your inquiries, feel free to contact Voli!
Voli Sink Faucet Fabrication
The sink faucets come with a lot of great features and advantages such as:
Discoloration resistance
Excellent corrosion resistance
Premium quality
Easy to install & use
Modern & elegant designs
Scratch-resistant
Excellent resistance to various temperatures
Drip-free
Non-toxic & safe for drinking
Long service life
Lightweight
Water-saving
Voli offers many different types of sink faucets. Their types are categorized by their finishes, styles, materials, installations, etc.
Installation – The sink faucets are available in wall-mount or deck-mount installations.
Faucet Styles – There are a lot of faucet types such as centerset, widespread, gooseneck, touch-activated, high neck, pull down, pull-out, water fall, double handle, high arc, and many more.
Finishes – Voli sink faucets come in a variety of finishes such as white matte, chrome, bronze, stainless, rose golden, nickel, gold, black matte, etc.
Hole Count – The sink faucets can be designed with a single hole, double holes, three holes, or 4 holes.
OEM & ODM Voli Sink Faucet for Various Applications
The sink faucet that has a golden brushed finish is ideal for modern bathrooms, kitchens, etc. It is designed with one lever handle that controls the water temperature and flows. Its golden brushed finish also makes them resistant to water spots and hides fingerprints.
The rose golden sink faucet includes two lever handles for easy adjustments of water flow and water temperature. It is manufactured from lead-free, non-toxic, and durable brass material with a rose gold finish. Also, it will easily match any bathroom design.
The nickel chrome plating of the sink faucet makes them highly resistant to tarnish, corrosion, and scratches. It also keeps the shine of the faucet last for a long time. The nickel-plated faucet also has excellent stability and a ceramic filter that resists high temperatures.
The touchless sink faucet has a 2-in-1 design. It is designed with an automatic soap dispenser and sensor water faucet. Also, it includes a water mixing valve that adjusts the water temperature. It is made from solid and lead-free brass with chrome plating.
The deck mount bathroom sink faucet can be installed on any modern lavatory room or bathroom vanity. It has a center set design, modern style, and chrome finish which makes it look more luxurious and elegant. Also, it is designed with 2 lever handles.
The black matte sink faucet has an elegant design and is ideal for the bathroom or kitchen. Its ceramic filter is designed to withstand high pressures and high temperatures. Also, it has good lubricating capacity, excellent resistance to wearing, rust, and scratches.
Gallery
Data Sheet
Details
"If you are searching for sink faucets that are both functional and stylish, I would highly recommend Voli to you! They have been supplying my business with high-quality sink faucets and exciting functions. And the products always satisfy me!"

"I am so grateful to Voli for producing all the sink faucets according to what my business exactly needs! They are truly an amazing manufacturer!"

"The sink faucets that I ordered from Voli are really easy to use and install. They can also resist high or low pressures of water. The faucets are not only beautiful but also water-saving."